Argalios is a family house that creates handmade bags, envelopes and bags on the loom, with designs and technique that combine the Greek tradition with modern culture.
It all started in 2011 at the house of Elias and Katerina Politis, when they brought a children's loom as a gift to their six children. On the occasion of the appetite for creation, the passion for everything handmade and the love for tradition, the Politi family has since dedicated itself to the revival of the traditional techniques of the loom.
The source of inspiration was the Greek traditional designs from every corner of the place and he started to create original woven bags, envelopes and handbags, handmade from beginning to end, ideal for gifts for men and women.
The founding of the company Argalios in 2013 gave the family home business extroversion and prospects for the fulfillment of its vision. Maintaining the completely handmade character of its woven products, from the original design to the packaging, Argalios has won the trust of all those who value quality and recognize the effort, time and uniqueness of the handmade.
All our clutches are designed in Greece and handmade by Argalios. They combine traditional craftsmanship with innovative design, applying traditional weaving techniques to the loom and designs based on Greek motifs.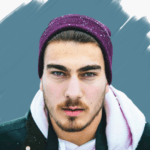 Paraskevas is the first son of the family and